We, at BharatBenz, believe that 'Knowing is Everything' when it comes to the growth of a business.
Truck and Fleet owners must always be aware and informed about every detail of their business to make decisions that enhance performance, improve productivity and keep them ahead of the game.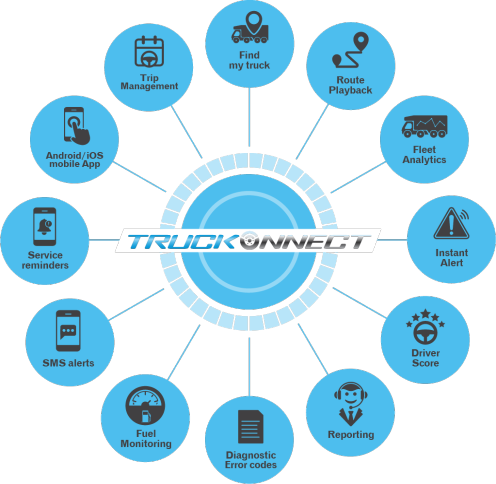 Staying true to this belief, we have launched our state-of-the-art platform, Truckonnect.
This application helps fleet owners in tracking vehicles real-time and monitoring vehicle parameters like vehicle speed, fuel level, AdBlue content, vehicle health, driver behavior and more. Using this application, fleet owners can optimize their fleet performance through features such as Driving Analysis, Trip Analysis & Truck Analysis.
Key Features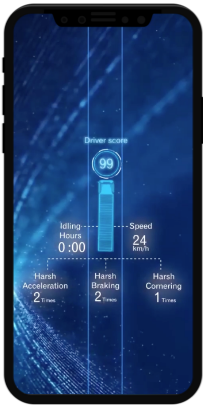 Find My Truck

User can select "Find My Truck" icon on the home screen to monitor the registered vehicles on google maps.

Route Playback

The customer can select a truck and retrace the exact path that it underwent for a particular trip, on a specific date and time.

Driver Score

Scoring is given based on the frequency with which the truck has been idling, speeding beyond the limit, harsh braking and sudden acceleration.

Instant Alert

An exclusive pane that gives real-time alerts as and when it occurs.

Fuel Monitoring

Shares the overall fuel mileage for all the trucks on a daily, weekly and monthly basis.

Diagnostic Error Codes

The connectivity device collects Diagnostic Trouble Codes (DTC) in every ignition cycle. Each DTC is further categorized into the following along with the action:

Service Now
Service Later
Service Info

Fleet Analytics

A one-stop dashboard for monitoring all key fleet KPIs like:

Mileage Trend
Fleet Utilization
Unsafe Events
AdBlue Consumption
RPM Band Speed Band

Reports

The following reports can be obtained on a daily, weekly and monthly basis:

Vehicle Summary Report
Overspeed Report
Geofence Report
Alert Report
Fuel Report
Fuel Performance Report

Trip Management

Allows customers to schedule and monitor end-to-end trips on a real-time basis. With trip-based reporting, one can enhance the overall efficiency of the fleet.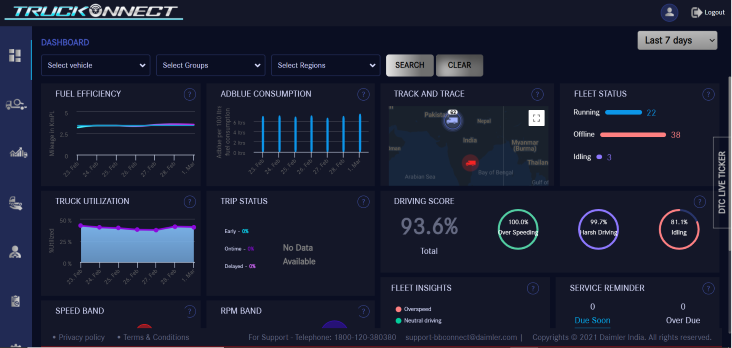 Dashboard Screen
The landing page of "Truckonnect" Application is "Dashboard". This page comprises of trend patterns for six key KPIs of the fleet along with a feature called "DTC Live Ticker" which provides real time information of Error codes as soon as one is detected
Sign up for a demo
Reports
By clicking Reports section on home page, the user can download various reports. Following reports are downloadable from the Portal:
Vehicle summary Report

Over speed Report

Fuel Consumption Report

Alerts Report

Vehicle Instantaneous report

Engine Overrunning report

Neutral Driving Report
Sign up for a demo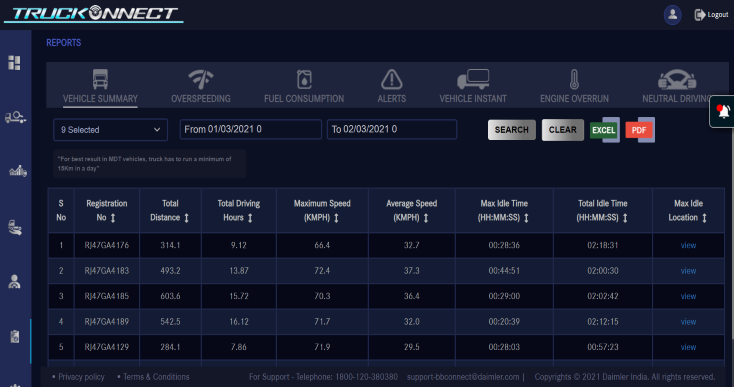 Other Benefits
Remote Diagnostics
Instant information of all issues shown to fleet managers on a real time basis along with severity helps in increased productivity (by maximizing uptime) of the fleet.
Fleet Analysis
Consolidated data trends and aggregation of major fleet operational KPIs like mileage, utilization, error codes etc are at the disposal of user with one click.
Peace of Mind
Truckonnect bridges major technology leap to BSVI from BSIV by providing real time and proactive information on torque limitation mode and creep mode of the truck, which maximizes fleet productivity.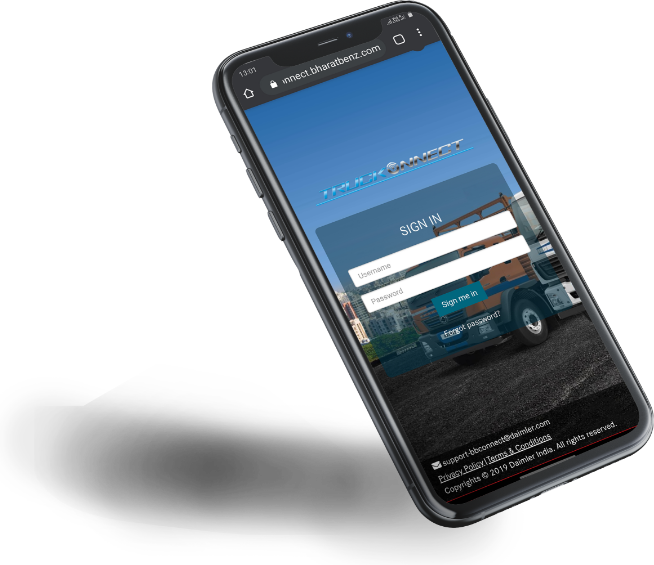 Know more!
To get in touch with our Truckonnect team, please share your details here.
Request a call back!